UConn Evicts Students Who  Held Party Without Social Distancing
Aug. 20, 6:30 a.m. The University of Connecticut has evicted students who held a packed party in a residence hall — without social distancing or face masks, The Hartford Courant reported. The students became known because video of the party was widely circulated.
The university said the students were "endangering not only their own health and well being, but that of others."
UConn Dean of Students Eleanor Daugherty and Residential Life Director Pamela Schipani said in letter to all students that those who were evicted did not represent the entire student body. "Our residential community has demonstrated an admirable commitment to follow universal precautions and keep our community safe. In doing so, they have made considerable sacrifice. We cannot afford the cost to the public health that is associated with inviting students into a room for a late night party," they wrote. "The vast majority of our students are doing the right thing — but every student needs to do the same."
–Scott Jaschik
---
Drexel Pivots to Online, Pitt Extends Remote-Only
Aug. 19, 3:35 p.m. The University of Pittsburgh will extend its period of remote instruction until Sept. 14, Ann E. Cudd, the university's provost and senior vice chancellor, said in a written statement. Pitt began its fall term this week with remote classes and had planned to move to mostly in-person next week. But Cudd said the university made the adjustment today to "allow for completion of staged arrival and shelter-in-place procedures so that all students can start in-person classes at the same time."
Drexel University, located in Philadelphia, will remain closed to undergraduates with its courses remaining remote throughout the fall term.
"We had all hoped to stage our gradual return to campus," John Fry, Drexel's president, said in a statement, "but the shifting nature of the COVID-19 pandemic and its impact on other colleges and universities has necessitated a change of course for Drexel."
The University of Notre Dame on Tuesday announced it was suspending in-person classes for two weeks after a spike of COVID-19 cases among students. And Michigan State University told students who had planned to live in residence halls to stay home as the university moved courses that were scheduled for in-person formats to remote ones. Those moves followed the Monday decision by the University of North Carolina at Chapel Hill to go remote and to send undergraduates home after several COVID-19 clusters emerged among students.
— Paul Fain
---
Warren and Tlaib Question Student Housing Developer Over Reopening Pressure
Aug. 19, 10 a.m. Two progressive members of Congress are probing a student housing developer for pressing universities this spring on the financial ramifications of their fall reopening plans and the possibility they would cut housing occupancy amid the coronavirus pandemic.
Senator Elizabeth Warren and Representative Rashida Tlaib, both Democrats, yesterday sent a letter to John G. Picerne, the founder and CEO of housing developer and operator Corvias. They requested information about the Rhode Island-based company allegedly "putting profits above public health during the COVID-19 pandemic."
As first reported in Inside Higher Ed earlier this month, Corvias wrote to public university officials in at least two states in May, telling university leaders the company had not accepted the risk of universities taking "unilateral actions" that would hurt student housing revenue. The company sent nearly identical letters to leaders at the University System of Georgia and Wayne State University in Detroit. Leaders at the Georgia system and many of its campuses where Corvias operates housing have denied any outside influence over their reopening decisions, as have Wayne State leaders.
Warren and Tlaib are asking Corvias to provide several pieces of information by Sept. 1. They include a list of all higher education partners for which the company manages, operates or builds student housing; copies of all written communications between the company and university partners regarding the status of student housing for the upcoming academic year; and information about whether the company has engaged in any legal action or communications telling colleges and universities they cannot reduce student housing occupancy.
Further, the Democrats' letter asks if Corvias agrees with Centers for Disease Control and Prevention's risk assessments for student housing occupancy, what steps it is taking to reduce risks of student housing residences it manages and if the company consulted public health experts or state officials before making arguments about the number of students housed in buildings. They also seek copies of the agreements between the company and universities and details about how those agreements allow for company profits.
"Reports that Corvias has been pushing for a less restricted reopening of on-campus housing that would be inconsistent with Centers for Disease Control and Prevention (CDC) guidelines raise serious questions about the nature of these partnerships and the private sector influences affecting campuses as they make important public health decisions for the Fall," Warren and Tlaib wrote.
Their letter also noted that an investigation of privatized housing in the military raised concerns about Corvias.
"It would be troubling if Corvias was once again prioritizing its profits over the health and safety of its residents," they wrote.
Corvias has not responded to multiple requests for comment since its May letters were first uncovered.
— Rick Seltzer
---
Positive Cases Spike at Notre Dame
Aug. 18, 2:33 p.m. The University of Notre Dame reported 80 new confirmed COVID-19 cases on its campus today. The university's daily report included 418 new tests, for a positivity rate of roughly 19 percent.
Notre Dame welcomed students back to campus on Aug. 3 for its fall term, which it plans to conclude in late November. The university conducted pre-matriculation virus tests of all undergraduate and graduate students. It found 33 positive cases among those 11,836 tests, for a positivity rate of just 0.28 percent. Since Aug. 3, the university has reported a total of 147 confirmed cases from 927 tests.
Rev. John I. Jenkins, Notre Dame's president, is scheduled to "discuss with students the current state of COVID-19 cases at the university" later today.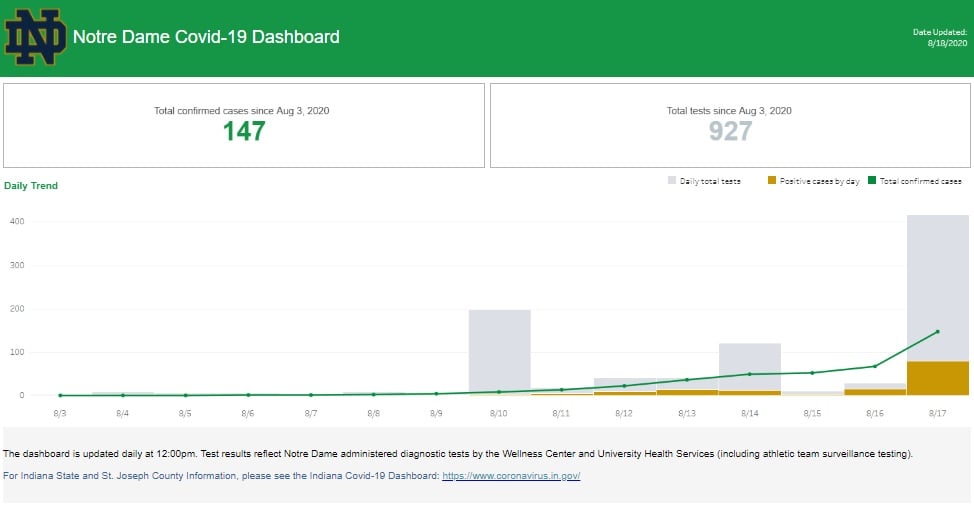 — Paul Fain
---
COVID-19 Cluster at Kansas' Bethel College
Aug. 17, 4:25 p.m. Nearly 10 percent of the first roughly 500 students and employees tested for COVID-19 at Bethel College, in Kansas, have the virus, the local health agency and Bethel's president announced Monday.
In a videotaped statement, Jonathan Gering, Bethel's president, said that "approximately 50" of those tested as they came to campus this week had the virus, including 43 students and seven employees. Those who tested positive were in isolation on the campus, and contact tracing had begun to identify others who had contact with those infected. Some of those identified are already in quarantine, Gering said.
The 43 infected students came from "faraway states and nearby locations as well," Gering said. They represented a sizable fraction of Bethel's roughly 500-student enrollment, since only about two-thirds of students had arrived on campus already for Wednesday's planned first day of classes.
Gering said Bethel would delay the arrival of those students who had not yet come to the campus. "We'll get you here when it's safe to do so," he said. Courses will begin online.
He also said that the college had moved to "orange" in its color-coded virus response system, and that students would be discouraged from leaving campus and visitors barred from coming onto campus.
— Doug Lederman
---
UNC Chapel Hill Pivots to Remote Instruction
Aug. 17, 4:05 p.m. The University of North Carolina at Chapel Hill has announced that all of its undergraduate instruction will be remote, effective Aug. 19 — nine days after the university held its first in-person classes for the fall term.
The university cited a "spate of COVID-19 infection clusters" in making the decision. Three announced clusters last week were in student housing, with a fourth linked to a fraternity. UNC on its COVID-19 dashboard reported 130 new positive student cases in the last week, and five positive cases among employees.
Chapel Hill reported a high and rapidly increasing positivity rate among the nearly 1,000 students it had tested as of this morning.
"In just the past week (Aug. 10-16), we have seen the COVID-19 positivity rate rise from 2.8 percent to 13.6 percent at Campus Health," said Kevin M. Guskiewicz, Chapel Hill's chancellor, and Robert A. Blouin, its executive vice chancellor and provost, wrote to employees.
In addition to shifting its instruction to remote learning, the university said it would continue to "greatly reduce residence hall occupancy," which it said were at 60 percent capacity.
Barbara K. Rimer, dean of UNC's Gillings School of Global Public Health, on Monday wrote on her blog that the university should "take an off-ramp and return to remote operations for teaching and learning."
She cited reports of noncompliance with social distancing by students off campus, saying the reopening was not working. "The rationale for taking an off-ramp now is that the number of clusters is growing and soon could become out of control, threatening the health of others on campus and in the community and putting scarce resources at risk," wrote Rimer.
UNC's campus health services reported that 177 students were in isolation Monday, with 349 in quarantine.
"There are no easy answers as the nation navigates through the pandemic. At this point we haven't received any information that would lead to similar modifications at any of our other universities," Peter Hans, the UNC system's president, said in a written statement. "Whether at Chapel Hill or another institution, students must continue to wear facial coverings and maintain social distancing, as their personal responsibility, particularly in off-campus settings, is critical to the success of this semester and to protect public health."
— Paul Fain
---
UNC Chapel Hill Faculty Call Emergency Meeting After Fourth COVID Cluster
Aug. 16, 4:41 p.m. The Faculty Executive Committee at University of North Carolina at Chapel Hill will hold a meeting Monday to discuss the growing number of coronavirus cases after the university reported a fourth cluster of cases on Sunday, the Raleigh News & Observer reported. A cluster is defined as five or more cases in close proximity.
Three of the announced clusters were in student housing complexes, and the fourth was linked to a fraternity.
The chair of the faculty, Mimi Chapman, wrote to the UNC System Board of Governors over the weekend urging it to give UNC Chapel Hill's chancellor authority to make decisions in response to the pandemic.
"We knew there would be positive cases on our campus. But clusters, five or more people that are connected in one place, are a different story," Chapman wrote. "The presence of clusters should be triggering reconsideration of residential, in-person learning. However, moving to remote instruction cannot be done without your approval."
Classes began at the Chapel Hill campus last week. The university opened for in-person classes over the objections of the local county health director.
— Elizabeth Redden
---
UNC Chapel Hill Reports 2 COVID-19 Clusters
Aug. 14, 4:32 p.m. The University of North Carolina at Chapel Hill informed students, faculty and staff members this afternoon that it has identified two clusters of COVID-19 cases at student housing complexes.
A cluster is five or more cases in close proximity within a single residential hall or dwelling. Those in the clusters "are isolating and receiving medical monitoring," according to an alert issued this afternoon. Local health officials have been notified, and efforts are under way to identify others who could have been exposed.
"All residents in these living spaces have been provided additional information about these clusters and next steps," the alert said. "Contact tracing has been initiated with direct communication to anyone determined to have been a close contact with a positive individual. A close contact is defined as someone who has been within 6 feet of an infected person for more than 15 minutes when either person has not been wearing a face covering. Those identified as a close contact will be notified directly and provided with further guidance."
The clusters are at the Ehringhaus Community and Granville Towers. Ehringhaus has four-bedroom suites and is heavily skewed toward first-year student residents. Granville Towers are privately managed.
Chapel Hill's COVID-19 dashboard shows main campus housing occupancy at 60.7 percent as of Monday and Granville Towers occupancy at 76.6 percent.
The university cited the Jeanne Clery Disclosure of Campus Security Policy and Crime Statistics Act when issuing the alert. That act set requirements for disseminating health and safety information on campus. But Chapel Hill does not plan to provide details about individual positive cases, citing privacy considerations and laws.
Chapel Hill held its first day of classes Monday.
— Rick Seltzer
---
Twenty-Eight COVID-19 Cases at the U. of Tennessee, Knoxville
Aug. 13, 5:30 p.m. The University of Tennessee at Knoxville reported that 20 students and 8 staff members have COVID-19, WATE News reported today. Due to potential exposure, 155 people are self-isolating, officials said. Students started moving into residence halls at the university on Aug. 9.
— Lilah Burke
---
Medical Advisers to NCAA Discourage Fall Sports Competition
Aug. 13, 1:30 p.m. Several medical experts with key roles in advising the National Collegiate Athletic Association offered discouraging words about fall sports competition in a conference call with reporters Thursday, according to news reports.
"I feel like the Titanic. We have hit the iceberg, and we're trying to make decisions of what time should we have the band play," ESPN quoted Dr. Carlos Del Rio, executive associate dean at Emory University and a member of the NCAA's COVID-19 advisory panel, as saying. "We need to focus on what's important. What's important right now is we need to control this virus. Not having fall sports this year, in controlling this virus, would be to me the No. 1 priority."
Most college sports conferences have opted not to hold intercollegiate competition this fall, but several leagues that play high-profile (and high-dollar) football are planning to play on.
Dr. Colleen Kraft, an associate professor of infectious diseases at Emory and a member of the NCAA panel, said of the leagues planning to compete: "There will be transmissions [of COVID-19], and they will have to stop their games," according to ESPN.
Officials at the Big Ten and the Pac-12, the two leagues in the Power Five football series that have opted not to play this fall, have especially cited concerns about apparently increased incidence of myocarditis, a potentially deadly heart condition, related to COVID-19. The NCAA's chief medical officer, Dr. Brian Hainline, said on the conference call that between 1 and 2 percent of all athletes who've been tested by NCAA members have tested positive for the coronavirus, and that at least a dozen have myocarditis, ESPN reported.
Dr. Kraft said colleges were "playing with fire" regarding myocarditis.
— Doug Lederman
Athletic Departments May Need 'Extraordinary Support' as Cancellations Hit Revenue
Aug. 13, 12:23 p.m. The recent spate of athletic conference decisions to postpone fall sports means substantial revenue shocks for college athletic departments, and cutting expenses will not always be enough to absorb the blow, according to a new report from Moody's Investors Service.
Because sports are strategically important for universities, Moody's expects universities to provide "extraordinary support" like internal loans in order to stay current on debt payments for athletic facilities. Colleges and universities may tap their financial reserves to close budget gaps tied to the pandemic, the ratings agency said in a report released Thursday morning.
"Athletic expenses have grown significantly in recent years, including certain fixed costs such as debt service, which will impact universities' ability to adjust to the disruption," said Dennis Gephardt, vice president at Moody's, in a statement.
Fall sports cancellations reached a crescendo this week when two of the most important conferences for college football, the Big Ten and the Pac-12, joined many non-Power Five conferences and programs in pulling the plug on fall sports amid COVID-19 concerns. Although the Atlantic Coast Conference, Southeastern Conference and Big 12 were still hoping to play football, the ramifications of existing cancellations will be felt across higher education.
Football has been the biggest driver of athletic revenue in the sector. Football contributed $5.8 billion in 2018, a whopping 40 percent of the $14.6 billion in total athletic revenue counted by Moody's. Growth in revenue has been driven by media rights like the payments television networks make for the right to broadcast games.
Disappearing ticket sales will also hit revenue. Although some donor support might be expected to offset losses, a significant portion of donor support comes from seating priority programs — donors buying the right to pick seats under certain conditions.
This situation is particularly important because the median athletic department broke even in 2018, meaning a significant number of departments lost money.
Moody's called that year a relatively strong revenue year. Still, more than a third of Division I public universities, 37 percent, reported expenses exceeded revenue that year. The median operating deficit among that group was 3 percent.
Conferences that generate more athletic revenue generally reported better operating performance than others. The financial health of operations varies greatly across athletic conferences.

"Compensation for coaches as well as other athletic support and administrative expenses among NCAA Division I members make up the largest portion of the expense base for a combined 35 percent and will be a focus for expense management efforts in fiscal 2021," Moody's said in its note. "With games canceled, universities will save some money on game day operations and travel expenses."
Athletics requires more capital than other arms of higher education. Median debt-to-operating-revenue was 58 percent for public higher education overall, compared to 66 percent for institutions competing in the NCAA Division I Football Bowl Subdivision. Facility expenses and debt service at Division I public universities drove increases in debt between 2013 and 2018, with debt growing 54 percent in that period to a total of $2.3 billion.
"Given the revenue shocks, many athletic departments will not be able to cover debt service with net revenue from recurring operations, prompting the need to fill the gap from appropriate auxiliary and/or other reserves. In many cases, this is likely to take the form of internal loans that the athletic departments will need to repay the university over time," the Moody's report said.
All of this follows the cancellation of the NCAA basketball tournaments in the spring. Men's basketball accounted for about 15 percent of 2018 athletic revenue across higher education. Women's basketball was 7 percent.
Still to be determined is how the spread of COVID-19 affects sports scheduled for later in the year and how universities balance pressures on athletics against pressures to other parts of their operations.
"Budget difficulties at athletic departments will add to the financial strains facing universities, including a tuition revenue pinch, reduced state funding and incremental expenses to combat the coronavirus," the Moody's report said.
— Rick Seltzer
---
A survey by Pearson finds that 77 percent of Americans think that reopening colleges and universities is vital to a healthy economy. But 62 percent say colleges and universities are risking the lives of students by reopening in the fall.
–Scott Jaschik
---
Aug. 11, 4:40 p.m. The Pac-12, another "Power Five" conference, quickly followed the Big Ten Conference with a decision to postpone fall sports for the remainder of 2020 at its institutions on the West Coast. The postponement also includes winter sports, which are on hold for the remainder of the year, and the conference will consider playing all sports impacted by the decision in 2021, the Pac-12 said in a release about the decision.
Three Power Five conferences, the Big 12, Atlantic Coast Conference and Southeastern Conference, which include the nation's top football programs and gain most from the sport's financial benefits, have not yet announced postponement of the fall sports season and are moving forward with modified schedules as of Aug. 11.
Aug. 11, 3:32 p.m. The Big Ten Conference officially postponed its 2020-21 fall sports season, including football. The decision affects some of the top college football teams in the country and was discouraged by several federal lawmakers on Monday.
Kevin Warren, commissioner of the Big Ten, said in a news release that athletes' mental and physical health was "at the center" of the decision and that the coronavirus posed too many potential medical risks for the season to proceed this fall. Spring competition for football and other fall sports, including cross country, field hockey, soccer and volleyball, will be considered, the Big Ten said in the statement.
— Greta Anderson
---
Notre Dame President Apologizes for Photos
Aug. 11, 7:20 a.m. Rev. John I. Jenkins, president of the University of Notre Dame, has apologized for letting several students take photographs of him that were not safe.
"In a few instances, over recent days, I stopped for photos with some of you on the quad," Father Jenkins wrote to students. "While all of the scientific evidence indicates that the risk of transmission is far lower outdoors than indoors, I want to remind you (and myself!) that we should stay at least six feet apart. I recognize that it's not easy, particularly when we are reuniting with such great friends. I am sorry for my poor example, and I am recommitting to do my best. I am confident you will too."
— Scott Jaschik
---
Financial Aid Applications Lag for Low-Income Students
Aug. 10, 12:45 p.m. Applications for federal and state financial aid for college are a leading indicator of how many students will enroll in and complete a college degree. A University of Michigan study shows that those applications have not increased with the additional need created by the coronavirus pandemic
The study found no increases in Michigan in students filling out the Free Application for Federal Student Aid and the Tuition Incentive Program, Michigan's largest state scholarship program for low-income students.
"It is worrying that we haven't seen any aid application expansion, and particularly that the gaps based on race or school income level have widened. FAFSA and TIP completion rates would need to be even higher than normal to keep up with the challenges created by the pandemic," said Kevin Stange, associate professor at the Ford School of Public Policy.
— Scott Jaschik
---
Report: Big Ten Votes to Cancel Football Season
Aug. 10, 12:06 p.m. University presidents in the Big Ten Conference, one of the NCAA Division I "Power Five" conferences, voted to cancel the 2020 football season, The Detroit Free Press reported. The conference had originally planned for conference-only competition, but has faced increased pressure over the last week from athletes organizing to improve health and safety measures for play amid the coronavirus pandemic.
Other Power Five conferences, which include the country's top college athletics programs, are expected to make announcements about the fall season early this week, ESPN reported. Division II and III leaders decided last week that they would cancel fall athletic championships, and the first conference in the Football Bowl Subdivision, the Mid-American Conference, postponed fall sports on Aug. 8.
— Greta Anderson